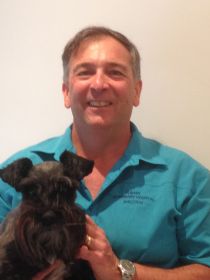 Dr Malcolm Webb
Veterinarian BSc BVMS Hons
Malcolm is a country boy, born and raised on the family farm at Newdegate. He graduated from Murdoch University with 2nd class Honours in 1986 and has spent all of his professional life in Albany, at Albany Veterinary Hospital.
Malcolm now considers himself to be a local. Since graduation he has been comfortable treating all mixed practice patients and is perfectly happy treating a coughing cat, a dog with a broken leg, delivering a calf and even offering production advice to a sheep farmer.
Over the past 3 decades he has got to know his clients personally and has made many enduring friendships in that time. Practice has changed with the years but good old fashioned service and relationships have not and he is proud to be considered an enduring part of the veterinary community on the south coast and hinterland. He aims to continue practicing in Albany and looks forward to sharing many new veterinary technologies with his patients and clients.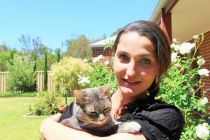 Dr Engela Gurney
Veterinarian BSc BVMS
Engela is a 2014 Murdoch University graduate who joined the Albany Veterinary team in 2015.
Originally from South Africa, Engela immigrated to Australia at the age of 16 and has fallen in love with the country WA.
Her hobbies include arts, crafts, cycling and music. She also enjoys learning new things and has a Masterclass certificate in Business. Engela has participated in many activities from showing steers at the Perth Royal Show to meat quality assessment and sheep embryo transfer.
Engela is very happy to be a part of the Albany Veterinary Hospital team and to help them provide the best quality care to their patients.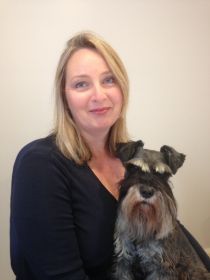 Kim
Certificate IV Veterinary Nurse
A local girl Kim was a paediatric nurse before venturing to the furry side.
She completed her veterinary nursing training in 2005.
Kim makes sure that the 'vet place' runs smoothly.
She shares Maya -a miniature schnauzer, who you will often see at the vets, and a British Shorthair- Sage . Sage is definetly the boss and runs the household and when she graces the vet house with her presences she runs that as well.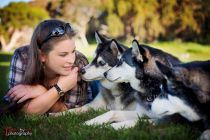 Chantelle
Certificate IV Veterinary Nurse
Chantelle is Albany Vet Hospitals Head Nurse, and completed her Certificate IV in 2005. She has been loving the job since 2000, including teaching Puppy Preschool classes.
When not working I'm teaching Dog Obedience at the local dog club and competing with my canine team over the state in Obedience, Rally Obedience, Agility and Jumping Trials.
Aside from that you'll find me reading, listen to music or riding my horse along the beach or bush trail somewhere.
Chantelle is also very active in the Australian Light Horse – Albany Troop. The Troop attends the ANZAC services and maintains a presence in the community.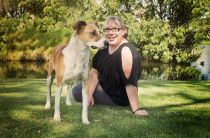 Amy
Certificate IV Veterinary Nurse
Amy is a local girl who was born in Albany and has lived here her whole life.
Amy has always has a passion for animals and was very excited to start working at Albany Veterinary Hospital in 2008. She commenced her training shortly after and completed her Certificate IV in 2010.
Amy has recently updated her qualification and is excited to be starting her Veterinary Nurse Diploma.
Outside of work, Amy enjoys spending time with family and friends, horse riding and training her dog 'Kia'. Together they compete in Obedience, Rally-O, Agility and Jumping. Amy is also member of the Albany Dog Club and enjoys helping others to train their dogs.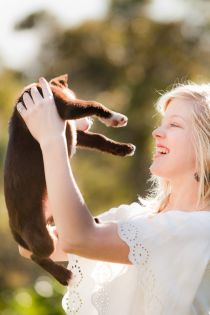 Sheridan
Certificate IV Veterinary Nurse
Sheridan joined the practice in February 2012 and completed her Certificate IV in Veterinary Nursing in 2014. She has an awesome Kelpie called Diesel.
Sheridan has returned back to work part time after the birth of her little man. We are really happy that she is back in the team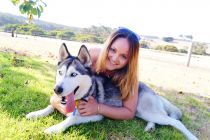 Annelise`
Trainee- Certificate IV
Annelise` started at Albany Veterinary Hospital in March 2014.
She studied year 11 and 12 at Denmark College of Agriculture and completed a Certificate ii in Agriculture and Specializing in Horse Breeding in 2010.
She adores animals for as long as she can remember. She has two pets of her own – a cat named 'Kahlua' and a dog named 'Mishka'.
She enjoys outdoor activities including horse riding and exploring our beautiful beaches.
Annelise` started her Certificate IV in Veterinary Nursing at the end of 2015
Annelise` is on maternity leave until March 2020. We wish her all the best and hopefully we see her and her little bundle of joy Alot before she returns in 2020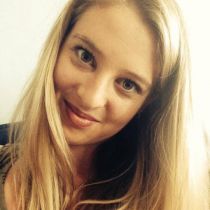 Courtney
Reception
Courtney is an Albany girl and has grown up surrounded by horses, cats and dogs of all sizes.
Courtney completed year 11 and 12 and Denmark Agricultural College and has worked with all types of production animals. She has Certificate II in Automotive, Agriculture ( beef production), Small business and Conservation and land Management . She also has a Certificate III in Age Care.
Coming from a 'vet family' Courtney has grown up in and around vet hospitals but has started working with Albany Veterinary Hospital in a more permanent way in 2014.
She is an outside girl who enjoys Camping, Fishing and 4 wheel driving. She is the proud 'Mum' of Dexter.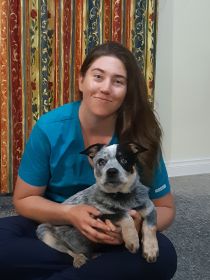 Hayley
Trainee – Certificate IV Veterinary Nursing
Hayley is working with us whilst Annelise is on Maternity Leave. Welcome to the team.
Hayley is a local girl who has always had a passion for animals.
Hayley is working hard on completing her Cert IV in Vet Nursing
When not at work or studying Hayley is having adventures with new puppy George, helping at a local riding school and competing at show horse events with her horse, Kat.
Call us to book an appointment!
Albany Veterinary Hospital
Mon-Fri: 8am-6pm
Sat: 9am-12 noon